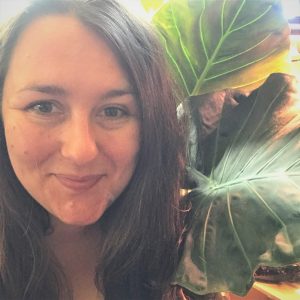 Hey there, I'm Veronica! I'm the resident plant nerd here at Oh Happy Plants.
This company began as the result of a fractured sacrum and an orchid that I pretty much ignored – only to see it develop 13 gorgeous blooms! That was January 2019, when I finally realized that the hordes of plant knowledge I'd picked up over the years could be used to serve other plant parents.
At that time, my day job was in the horticulture field (well, not literally a field; I cared for plants in office buildings). I'd been caring for thousands of plants all over the Puget Sound region and had been noticing patterns of plant-y behavior. I found out that plants act wildly different based on the microclimate they're in. Because I had between 20 and 300 examples of each species I worked with – each in a different location – I was able to gather a LOT of information.
In September 2021, after 7 years caring for thousands of plants, I left that role to provide full-time plant help to houseplant parents like you! I'm personally going on my 24th year of houseplant parenting, and my ultimate goal is to help you develop an intuition about how your plants are communicating with you.
Now Oh Happy Plants consists of myself, two advisors/partners, and will soon have a few employees. As we grow we are working hard to build this business all about you, so expect us to continue to tweak our processes so we can provide you the best products possible!
Besides being a total plant nut, I'm also a mom (my son pictured above at age 3), partner, cook, sculptor, musician, business coach, painter, and nerd in several other arenas. For more fun nerding, check out our resource pages at Professional Catalyst Growth Coaching Solutions or Start Your Damn Business – for managers/execs/career growth and small business owners, respectively.