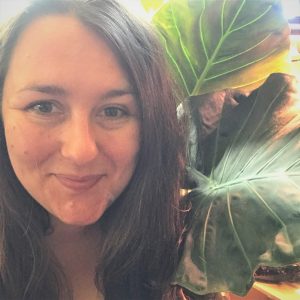 Hey there, I'm Veronica! I'm the resident plant nerd here at Oh Happy Plants.
This company began as the result of a fractured sacrum and an orchid that I pretty much ignored – only to see it develop 13 gorgeous blooms! That was January 2019, when I finally realized that the hordes of plant knowledge I'd picked up over the years could be used to serve other plant parents.
At that time, my day job was in the horticulture field (well, not literally a field; I cared for plants in office buildings). I'd been caring for thousands of plants all over the Puget Sound region and had been noticing patterns of plant-y behavior. I found out that plants act wildly different based on the microclimate they're in. Because I had between 20 and 300 examples of each species I worked with – each in a different location – I was able to gather a LOT of information.
In September 2021, after 7 years caring for thousands of plants, I left that role to provide full-time plant help to houseplant parents like you! I'm personally going on my 25th year of houseplant parenting, and my ultimate goal is to help you develop an intuition about how your plants are communicating with you.
Now Oh Happy Plants consists of myself, some virtual social media help from Shaunté, two advisors/partners, and the best mascot ever. As we grow we are working hard to make this business all about you, so expect us to continue to tweak our processes so we can provide you the best products possible!
Besides being a total plant nut, I'm also a mom (my son pictured above at age 3), partner, cook, sculptor, musician, business coach, painter, and nerd in several other arenas. For more fun nerding, check out our resource pages at Professional Catalyst Growth Coaching Solutions or Start Your Damn Business – for managers/execs/career growth and small business owners, respectively.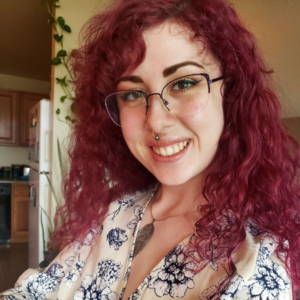 Aaaaand here's Shaunté!
Hello, I am Shaunté – Veronica's first employee and assistant! I feel so honored to call myself a professional plant nerd, as I have always appreciated plants and nature in general. Currently I have a collection of nearly 150 houseplants. I can't choose a favorite, though! When you ask a plant person what their favorite plant is they will probably give you "the look." It's so hard to choose! Especially if your collection is as large as mine. For me, cool growth patterns, colors, and textures are what catches my eye.
A huge quality I take into consideration when I purchase a plant is its growth rate; the faster it grows the more cuttings I can gift, or trade for MORE wishlist plants! The cycle is never ending!
Besides plants, I would describe myself as an animal fanatic and a crafty spirit. I have had many pets over the years from cats and dogs, to birds, rodents, reptiles, and even some insects! Currently, I have a 4 year old Maine Coon named Macciato that is SUCH a goofball, my 20 year old SASSY childhood cat named Mowsers, three fish tanks, a paludarium with a vietnamese mossy frog living in there named Zoro, and Blossom, my axolotl!
When I'm not tending to my houseplants or animals, I am probably practicing my photography skills, exploring the wilderness, playing video games, doing something crafty, or cooking- food is a BIG passion of mine.
Right now I'm taking a hiatus from the dirt shed but will still be working my social media magic behind the scenes on the OHP FB, IG, and TikTok. You'll still see me around online – feel free to say hi!